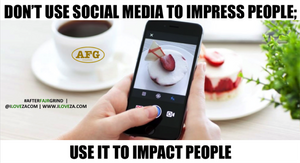 AFG Quote - 15 August 2016
Sale price Price R 0.00 Regular price
Tax included.
If you closed your eyes today, would you be happy with all your posts that are left on social media ?

Let's use these tools to make a significant impact in someone's life
www.iloveza.com
#iloveza❤️🇿🇦 #AfterFajrGrind

Remember you can:
- Shop Online in 18 Departments,
- Purchase Prepaid Airtime or Electricity online without any service charges
- Get cash back on your purchases on our Online Store with our eMali Rewards Program
- Advertise your products on our Online Store,
- Book Accommodation/ Flights/ Car Hire to visit South Africa or anywhere in the world,
- Find Events happening in South Africa,
- Let us Create your e-Tickets for an Event and Sell them for you
- Find a Business, Place of Worship or a Hospital in South Africa,
- Advertise your business for less than R1 a day,
- Get FREE Financial Advice,
- Get access to awesome Competitions,
- Read the latest Reviews on products, services, events and businesses in South Africa,
- Read the Latest News & Trends  in South Africa,
- Get tips on raising a child in South Africa from our Daddy Blog
- Find great South African Recipes
- Watch great Video content from and about South Africa
- Find Kosher Restaurants in South Africa (other categories such as Halaal, Vegetarian, etc still to come)
- Keep up to date with all the Religious Festivals and Public Holidays in South Africa
- Learn everything you need to know about South Africa and more at www.iloveza.com, SA's only Information Highway & Online Store.
Download our FREE App from the App Store or Google Play.
Connect with us via Twitter (@ilovezacom), Instagram (@ilovezacom) and Facebook (iloveza.com)
We offer FREE delivery in South Africa on any purchases made on our online store.

We also offer Worldwide Shipping to any country on any purchases made on our online store.