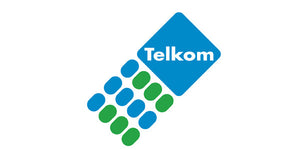 Airtime - Telkom
Sale price Price R 40.00 Regular price
Tax included.
Telkom Recharge Voucher
To Recharge Dial #55 from your Telkom Landline and follow the voice prompts
Please note:
The airtime voucher can either be e-mailed or directly recharged to your phone (no PIN required).
Please make sure you select the correct service.
Please make sure the correct amount is selected.
Please make sure that your e-mail or cellphone number entered on your account is correct.
Please note, not all denominations can be directly recharged.
There are no refunds, exchanges, or returns on Airtime Vouchers.
The voucher has been deemed to be delivered once it has left our system.
There are no additional services fees.