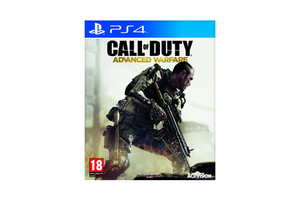 Call of Duty Advanced Warfare (PS4)
Sale price Price R 749.00 Regular price
Tax included.
Developed by Sledgehammer Games (co-developers of Call of Duty®: Modern Warfare® 3), harnesses the first three-year, all next-gen development cycle in franchise history. Call of Duty®: Advanced Warfare envisions the powerful battlegrounds of the future, where both technology and tactic have evolved to usher in a new era of combat for the franchise. Delivering a stunning performance, Academy Award® winning actor Kevin Spacey stars as Jonathan Irons – one of the most powerful men in the world – shaping this chilling vision of the future of war. Power Changes Everything. Features:

An Advanced World: Call of Duty: Advanced Warfare takes place in a plausible future in which technological progress and today's military practices have converged with powerful consequences. In this carefully researched and crafted vision of the future, Private Military Corporations (PMCs) have become the dominant armed forces for countless nations outsourcing their military needs, redrawing borders and rewriting the rules of war. And Jonathan Irons, the founder and president of the world's largest PMC – Atlas Corporation – is at the center of it all.
An Advanced Soldier: Powerful exoskeletons evolve every aspect of a soldier's battle readiness, enabling combatants to deploy with an advanced lethality and eliminating the need for specialization. The introduction of this gameplay mechanic delivers enhanced player movement and verticality through boost jumps and grappling, covert cloaking abilities, and biomechanics that provide unparalleled strength, awareness, endurance, and speed. With the advent of the exoskeleton and newly advanced armor and weaponry, every soldier commands tactical freedom in any terrain unlike ever before, fundamentally changing the way gamers play Call of Duty across all modes.
An Advanced Arsenal: Harnessing the power of next-gen platforms, Call of Duty: Advanced Warfare brings players into the battlegrounds of the future by boasting a new hi-tech, advanced arsenal and ability set, arming players with all-new equipment, technology, perks, and vehicles like hoverbikes and highly specialized drones. Players can also choose between standard ammunition and an all-new class of directed-energy weaponry that enables totally new gameplay dynamics. And with exoskeletons delivering a massive force multiplier and unprecedented tactical freedom, Call of Duty: Advanced Warfare evolves every firefight.