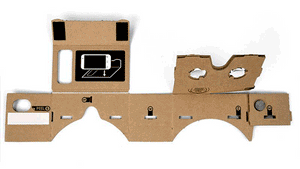 Google Cardboard Kit
Sale price Price R 199.00 Regular price
Tax included.
The DIY Google Cardboard Virtual Reality 3D glasses headset transforms your smartphone into a 3D Virtual Reality headset.
The Cardboard DIY kit comes with everything you need to assemble your own Virtual Reality headset and be ready to go in just 3 minutes.
Cardboard is compatible with iOS and Android devices with a screen size up to 5-inches in length.
To find Cardboard compatible apps, search in the App Store or Google Play for "Cardboard".
The DIY Google Cardboard headset is a great way for anyone with a suitably sized smartphone to enjoy the cinematic experiences of Virtual Reality.