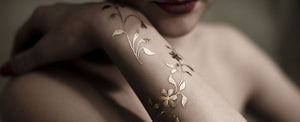 Jewellery Temporary Tattoos
Sale price Price R 0.00 Regular price
Tax included.
CONTACT FOR PRICE
How many tattoos are there in a set?
We package out sheets in single units that come in attractive retail packaging.
Each sheet is known as a flash.
(When you walk into a real tattoo shop those pictures with a bunch of designs are called tattoo flashes)
We have a total of 10 designs available immediately. Please email us at info@sjokandshizi.com and we will reply with the designs we have on hand as well as the prices. Retail enquiries are most welcome, we offer discounts for bulk orders of 20 or more sheets.

How long do they last?
As with most temporary tattoos our gold and silver foil tattoos can last 4-5 days with proper care. When washing simply dab them with a moist cloth, don't rub them. Avoid using sunscreen, soaps or lotions on the tattoos. These can soften the adhesive and your tattoo will get damaged easily.

How to apply jewellery tattoos?
These tattoos are made up of gold and silver foils; these are very delicate however the application method makes them very simple to apply. Most people have applied normal temporary tattoos to their skin at some point, remember how easy it was? Applying these jewellery tattoos is just as easy. The only difference is these require a little more creativity and thought on where they should be placed on the body.
Once you have planned where you want to place the tattoos. Use a sharp pair of scissors to cut out the various shapes. Ask a friend to help you; you will be amazed at how much fun this process can be. To apply the tattoos follow these steps:
1. Make sure skin is free from oil or lotions and is clean.
2. Peel the plastic sheet that protects the tattoo and place the tattoo onto skin
3. Use a moist sponge or cloth to dab the tattoo until it is fully soaked.
4. Wait 20-30 seconds and then peel carefully
5. Once peeled dab lightly
6. Allow 5-10 minutes for the tattoo to set well

How do I remove the tattoos?
To remove your jewellery tattoo simply soak them with baby oil, olive oil or coconut oil for a few minutes then gently rub the tattoo off. Repeat if necessary then apply a lotion to moisturise and soothe the skin.

Temporary tattoo safety
All the materials in our temporary tattoos have FDA approvals and have also passed EU Cosmetic directive approvals. These reports are available on request to valid clients.

Jewellery tattoo customised designs
We are also able to produce customised designs for clients on 500 sheets or more. These can include brands or logo's. For more information please email info@sjokandshizi.com

Tattoo retail enquiries
We are able to supply bulk sheets for retail clients, please email info@sjokandshizi.com if you are interested in stocking these products.