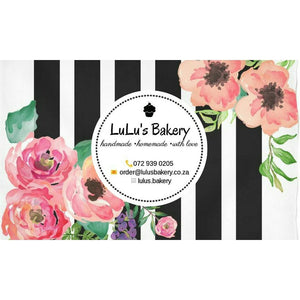 LuLu's Bakery
Sale price Price R 100.00 Regular price
Tax included.
Baking and Confectionery

Fatima Dala

072 939 0205
Home Business. Selected Friday afternoons and Saturday mornings at the Storefront
Last Updated: 09 July 2020
Location: Gauteng
About LuLu's Bakery
LuLu's Bakery is directed by Fatima Dala, and is a home business specialising in made-to-order cakes, cupcakes, cake pops, sugar cookies and other goodies, for any occasion! All our items are made 100% from scratch for every batch.
LuLu's Bakery is single handedly run by one woman.
We recently launched the LuLu's Bakery Storefront which offers ready made goodies for walk in purchases. 
LuLu's Bakery have been operating for 10 (ten) years.