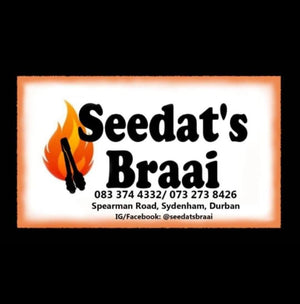 Seedat's Braai
Sale price Price R 100.00 Regular price
Tax included.
Food, Catering, Home Based Braai Business

Muhammed Y Seedat
Spearman Road, Sydenham, Durban
083 374 4332
Mon - Fri 15h00 - 19h00, Sat & Sun 11h00 - 19h00
Last Updated: 03 June 2020
Location: Kwa-Zulu Natal
About Seedat's Braai
Seedat's Braai is directed by Muhammed Y Seedat, and is a Home based Braai business.
Seedat's Braai have been operating for 5 (five) years, and employs 5 (five) people.