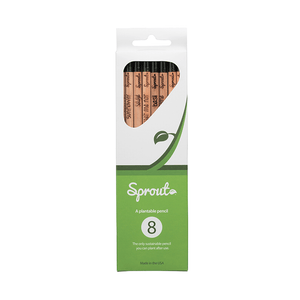 Sprout Pencil (Mix Pack of 8)
Sale price Price R 600.00 Regular price
Tax included.
Sprout: A Pencil with a Seed Inside
The embedded seed is organic
Made from 100% natural materials and non-toxic
Lead-free: writes using graphite and clay
Made from sustainably harvested cedar wood (Ticonderoga)
Wood is FSC/PEFC certified, so when one tree is used another is planted
Mix pack of 8 contains Basil, Mint, Sunflower, Lavender, Sage, Forget Me Not, Cherry Tomato and Thyme.
And remember not to chew the end or the seed may sprout before its time!

How to plant your Sprout

Push the pencil stub into soil
Make sure it's at an angle so the plant can grow straight up
Water it and place it in the sun
After 1-2 days remove the stub to create the best sprouting conditions for the seed
Once the seeds germinate, look after it with tender loving care: plenty of water, sun, fertilizer
It should Sprout in two to three weeks and a few weeks later, it should be flourishing
It's completely non-toxic so don't worry about putting it in the earth
Please note: Sprout have done their best to ensure each and every Sprout will grow, but they can't guarantee it.
*Product may take longer to be shipped if out of stock as it is not locally manufactured